Align & Revive
Cultivate the precious light within
Join a class today
First class is 15,- Chf
WEEKLY CLASSES
Tuesday 12.15 p.m. – Mouvement & flexibility @Espace de quartier Soubeyran – rue Soubeyran 10.
Tuesday 6.15 p.m. – Ymouv, Yoga by Petra @ArKade – chemin de la Florence .
7.00 a.m. – Morning yoga @Usine Sports Club – Be'U Yoga – rue Bovy-Lyseberg 3-5.
Wednesday 6.30 p.m. – Community yoga, suitable to seniors @Espace de quartier EV – rue de Montchoisy, 46.
Wednesday 7.15 p.m. – Yoga Nidra, Yoga Yin & SOUND bath @Espace de quartier EV – rue de Montchoisy, 46.
Sunday 11.00 a.m. – Yoga flow & Yoga Nidra, @Chene-Bougeries, chez moi, in the park EV &  Zoom.
Confirmation is mandatory by message au 078 865 25 58.
More classes and information: here
Community classes and Yoga Nidra classes are in collaboration with Magalie. Also note that I promote a hormonal yoga class:  Yoga boost Hormones – Thursday 5.15 p.m. – Om Aloeh Therapie given by  Tereza.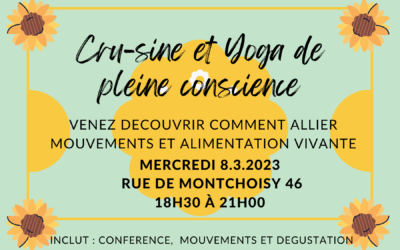 Looking for fun and for food that may change your life? I did. I was just looking to optimize things. And keep eating well. But meeting Wendy G. has changed my life more positively. Come to join a pleasant diner, quality yoga class short mindful meditation and a nice...